It has been nearly four months since, one by one, new faces started to arrive in South Bend looking to make a big impact in a very small space of time.
The inaugural South Bend Lions roster was coming together and starting to gel, blending a diverse mix of cultures and personalities that all shared a common love for soccer.
Giancarlo Triulzi, or Gigi as he is more commonly known, arrived from Palm Beach Atlantic University in Florida ready to return to USL League Two after playing for West Virginia United in 2019.
He brought pace down the wings and a fierce long-range shot, as well as wisdom in the kitchen — sharing some of his Italian heritage with other players over lunch and dinner.
South Bend Lions' first game was a scrimmage against Old Bhoys before the USL League Two season commenced, and it did not take long for Triulzi to make his mark on the field: scoring the club's first goal in just three minutes and 13 seconds of play.
"That was the first ball I touched," he recalled, "It was crossed into the middle and I hit it and it went upper ninety; Coach [Thiago Pinto] said it was a very good first goal for South Bend Lions.
"Most of the players stayed together in one house, and we connected right away — it was a lot of fun. That brought us chemistry, and by the time the scrimmage came, the group was united.
"We had some leaders in the group like Anthony [Legendre]; he guided us. Nick [Luciani] was also another father of the group and so patient.
"Some players were used to playing with each other from college, but they were all open to the style of play we wanted to execute. Brennan [Creek] and Amass [Amankona] wanted to keep the ball and we had combinations from the beginning where we were all on the same page.
"At the first practice, the level I saw was good because you had some good [College] Division 1 starting players and some ex-professionals, so I was very excited to start the season to see how it was going to go."
Triulzi went on to score twice against Old Bhoys, and making good first impressions on the soccer field is something he is used to having netted in his first action of his sophomore season at Palm Beach Atlantic.
The Milan native had been studying in West Palm Beach for two years prior to arriving in South Bend, but quickly adjusted to the new environment and made the city his home.
"We got there and I was impressed because the club provided housing, food and support; they were super nice to us from the beginning. They did an amazing job by doing that and we just had to put in the work and have a good season.
"The club organized visits to ortho labs, looking at how our body reacted to different movements. We had training, access to the gym and at every possibility we were treated as a professional.
"It was very good because not every club treats you like this and you really feel welcome, you feel wanted, and this is very important.
"Everybody helped you to give your best, and there were no excuses not to give your best because you had everything you wanted.
"When you are offered these little things, you need to pick up on them because you need them to be able to go professional or go to college — which is why you are there [to progress further on the pathway].
"I played USL League Two before and compared to then it was a completely different experience."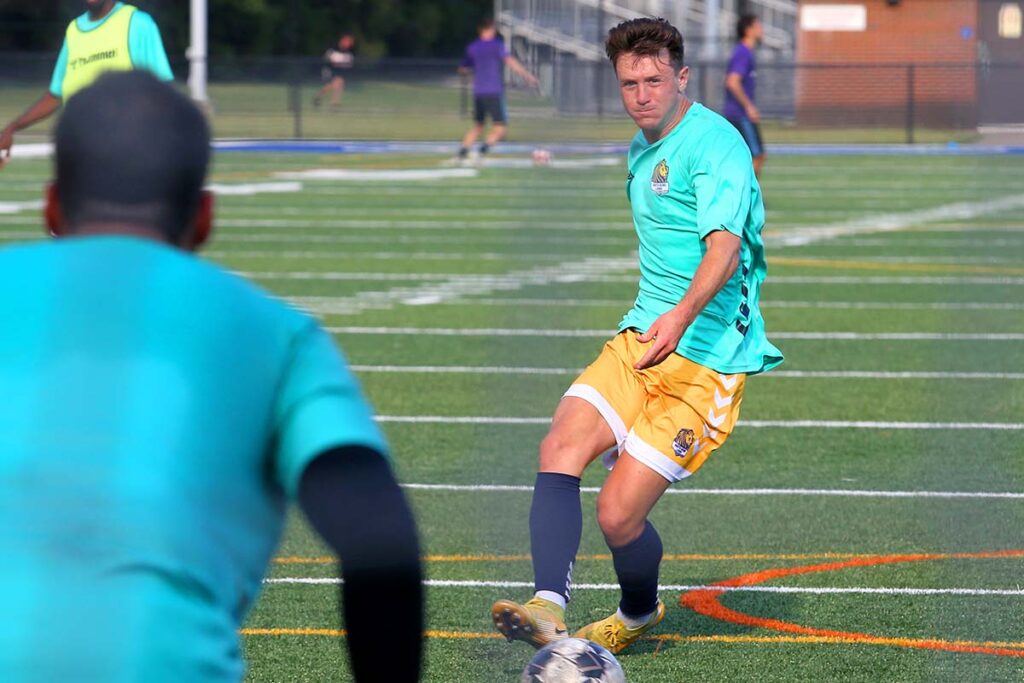 Before injury cut short his season, Triulzi scored once in 480 minutes for South Bend Lions and has also found the net since returning to college soccer at Palm Beach Atlantic, playing for the Sailfish while continuing his studies in international business and reflecting on his time with the Lions.
"You have a few weeks to prepare for a season of 14 games, so it was not easy, but in the future I want to implement what I've learned.
"You need to always deliver, and have consistency no matter who plays or what team it is; we lost points in the last few minutes of games, so you always need to be focused.
"I learned about creating good chemistry from the start with people you have never played with before and adapting to the style of play.
"You need to be careful how you conduct yourself at all times — it's a responsibility. With experience and knowing other players, it gets normal to you.
"I enjoyed playing with South Bend Lions; I knew I was going to play with very good players.
"By talking with the coaches, you could set a benchmark and that was very important. It's given me a clear idea of what to target in the future and how much to work in order to get there."
That work started at the crack of dawn — as every South Bend Lions player quickly discovered. But the daily timetable also allowed the players time to experience the city's special culture.
"We would wake up, have breakfast and go to practice for around two hours. Then after lunch you could go to the gym, or if you wanted to recover you could go to the pool at Kroc Center — do anything you needed.
"Then we often went out to eat dinner because there's lots of good places to eat food, and I'm Italian so I like good food. I was impressed with that.
"South Bend has a lot of good things — the city is evolving and Notre Dame is right there. There's a mixture of young people and families and it's a good environment where you don't have many distractions, but it's also a city with college life so you can go out and do things.
"Wherever we went, people would ask what we did and then everyone wanted to come and watch us. We got a lot of fans coming at the end, and even after the scrimmage people were already tweeting and sharing, and people were coming to games that had never seen soccer before.
"The fans were great and the community was really welcoming. We always felt part of a movement that was more than just a team; you were there trying to become something, and you felt like you needed to make this not just for yourself or the team, but for the city, for the community.
"Hopefully people realize in the next few years that South Bend is a soccer city."